Seven Oahu Beaches
Wedding & Photo Tour
Deluxe Oahu Wedding Package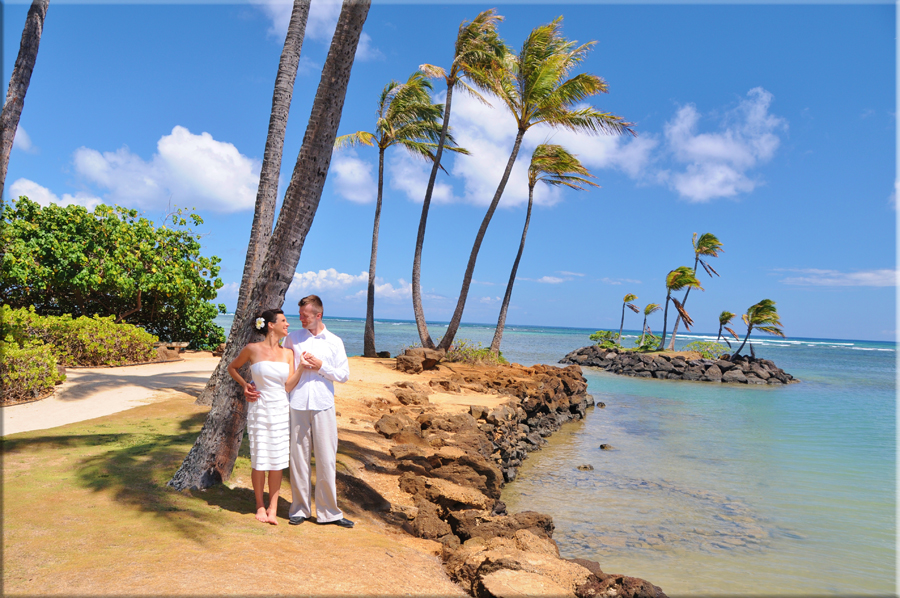 With this Wedding Package we will take you on a half-day Tour of 7 Oahu Beaches, with Photo-shooting at each location. Visit Kahala Beach, Diamond Head Beach, Wailupe Beach Park, Kawaikui Beach, Sandy Beach, Kaka'ako Oceanfront Park, and Waikiki Beach. and Magic Island. We will start the day with your Wedding at Kahala Beach, and end the day with sunset photos at Magic Island or Kakaako.

Deluxe Oahu 7-Beach Wedding
Wedding Minister
Transportation
Photographer
200 Photos
Ukulele Music
Souvenir Wedding Certificate
MON-FRI: $999.00
SAT-SUN: $1099.00
Photo tours are the best way to capture the moments of your vacation together. Have a Photographer show you around the islands and take quality photos you can show off when you get home.
After having your Wedding at the beautiful and scenic Waialae Beach, we will visit several other locations on your Photo Tour around Oahu.
Kahala Beach

Kawaikui Beach

Sandy Beach

Makapuu Beach

Waimanalo Beach

Lanikai Beach

Magic Island

(Photographer: Robert Hamilton.)
UPDATE ON LOCATIONS
Makapuu Beach, Waimanalo, and Kailua (including Lanikai) are presently not allowed to have "professional photography" due to City Council ordinance. Other locations are available for our photo tour.
Schedule varies by season.
Wedding and photo tour is about 5 hours, depending on traffic. We recommend early morning weddings (such as 9:00am) so we can shoot photos during the best lighting of the day. *Add $100.00 if you wish to include sunset photos in your package. Sunset request would include a few hours break time for late lunch or early dinner before the evening photo shoot.
*Please tip your Photographer. Mahalo!
You can also add one of our Photo Tours to any Wedding package.
We also have Photo Tours of other locations around Oahu:
(includes complimentary transportation in our company car)
1. Honolulu & Windward Oahu Photo Tour - $299.00
2. North Shore - $299.00
3. Manoa Falls - $99.00
4. Punchbowl & Pearl Harbor - $299.00
5. Makaha, West Oahu - $299.00
Tax of 4.712% is added to our wedding packages and ala carte services.
Add a Wedding Video DVD to this package for $299.00. (Wedding Video is shot at Kahala Beach only. Full day Wedding Video is $1249.00.)
SEVEN BEACHES
*Please note that we will visit seven locations during the photo tour, however we may substitute another beach for one of those listed should there be any issues such as weather, parking, crowding, etc.

Optional locations:
WAILUPE BEACH PARK, HEAVEN'S POINT, ETERNITY BEACH, DIAMOND HEAD BEACH, WAIKIKI, KAKA'AKO PARK, ROUNDTOP PARK
Contact us today to begin the exciting experience of planning your Hawaii wedding!
Bridal Dream Wedding Company
Honolulu, Hawaii 96815
Phone/Fax: (808) 924-3600
Cell: (808) 772-1140
email@hawaiibridalweddings.net